We've all typed "HR software" into a Google search and immediately become overwhelmed with all the options.
What ensues is a long process of trying to figure out what solution will be a best fit for your needs.
For the last 20 years, the 'all in one' solutions have dominated the market.
The 'all-in-one' options have been attractive for their long list of available features. But with the modern workplace fundamentally different to what it was 20 years ago, 'all-in-one' solutions are being left behind. HR professionals are moving to adopt the 'new and modern' HR technology platforms such as Worknice that offer exceptional employee experiences.
Download the white paper now
Complete with infographics and detailed HR platform schematics to help you understand why the 'all-in-one' platforms are dead, while also framing the anatomy of the new modern HR platform.
A must read for anyone looking to invest in modern HR software.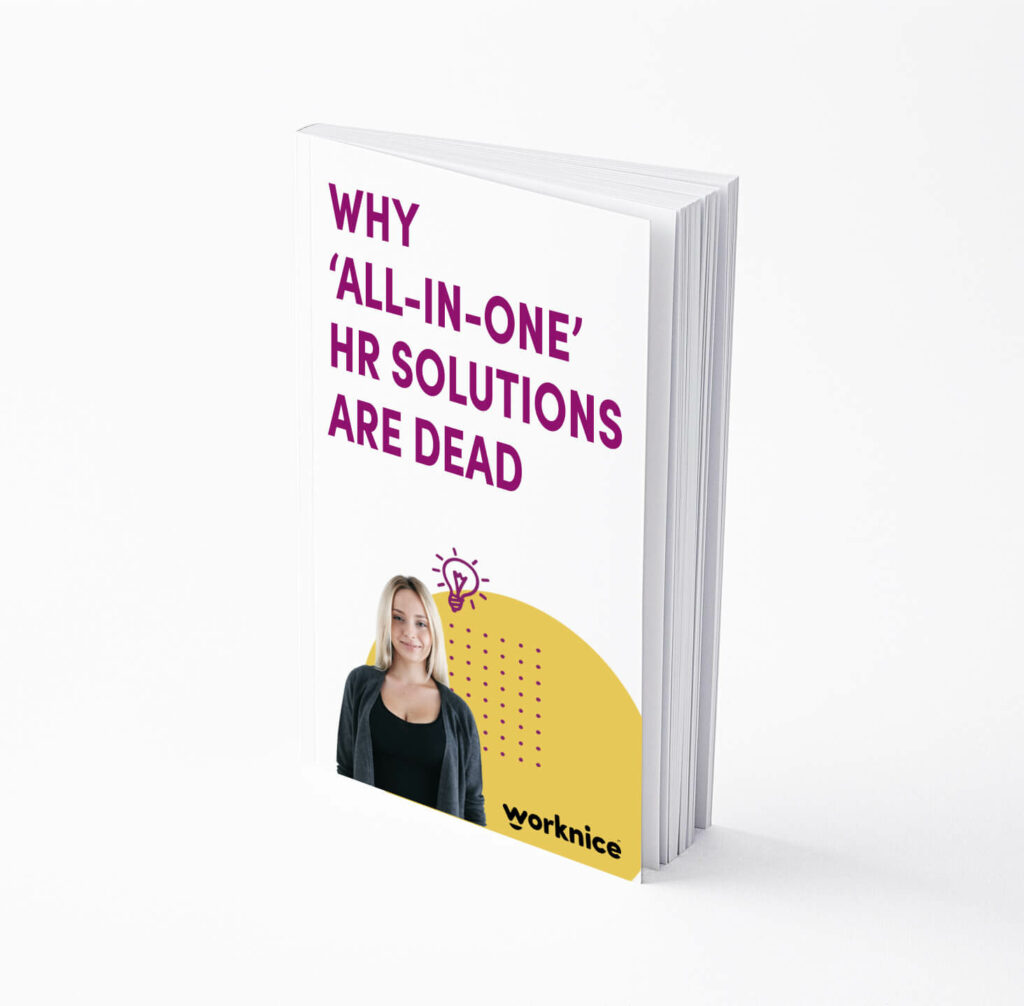 Summary analysis of the current HR software market
Context
Work has changed and HR managers are rejecting their "all in one" solutions to find point solutions to solve their immediate needs.
Problem
This has led to an explosion of HR point solutions. HR managers are struggling to integrate their "HR Stacks" slowing down processes & exposing compliance risk.
Incumbents
HR managers are rejecting the "all in one" model
Solution
A new type of HR technology like Worknice. A central hub for all employee data. Connecting point solutions and automating the entire employee lifecycle.
What has caused the death of the 'all-in-one'?
The modern workplace has changed in fundamental ways
Companies now have to offer exceptional employee experience to attract and retain top talent. They had to become 'modern' in the way they engage their people. This includes a focus on workplace culture, wellbeing and flexibility.
In turn, technology (such as HR software) has to support the demand for exceptional employee experience and the spirit of modern growing companies.
What is an all-in-one HR solution?
An 'all-in-one' Hr software solution is a platform that applies a focus to breadth of features rather than depth of features.
SME all-in-one platform lack depth and flexibility for a growing business, and have a shelf life for companies that exceed 10 employees. 
Enterprise all-in-one platforms are too expensive and take too long to implement for growing businesses.
Growing companies are rejecting the 'all-in-one' model
The SME all-in-one solutions simply don't have the features to support this change. While they have loads of features, they don't offer the depth and flexibility needed by growing companies.
Enterprise all-in-one solutions are too expensive to consider.
So growing business are getting 'stuck in the middle'; adopting point solutions to meet high employee expectations. They have done this, however, without considering how to connect them all together.
Point solutions leading to poorly integrated "HR Stacks"
Growing companies now have flexible functionality with their point solutions. But when they aren't 'glued' or integrated together, clunky and disconnected HR systems are the result. So now a new wave of problems occur:
Poor employee experience
Slowing down of process
Exposure to compliance risk
No source of truth for insights
Expensive total cost of subscription
Nearly endless implementation and administration burden
What is the alternative to 'all-in-one' Hr software?
It's time for a whole new type of HRIS platform
Growing companies need a whole new type of HRIS platform. They need a central hub for people management with flexible out of the platform technology that drives process efficiency and employee experience.
From a feature perspective, the modern HRIS must have;
Flexible, beautifully easy to use core HR functions
Add-on functionality for when the the time is right
Point solution integration to bring your HR stack together.