Selecting new HR software can be an overwhelming task, particularly when you aim to address current workforce challenges while ensuring your people and culture strategy remains future-proof. The decision to invest in new software not only impacts your financials but also significantly influences HR operations, managerial practices, and the overall employee experience.
When confronted with the choice of HR software, the question arises: should you opt for a single system that does everything or multiple specialised tools integrated into one platform (aka – best of breed approach)?
Demystifying the Best-of-Breed Approach
In essence, a best-of-breed HR system merges specialised tools, typically through API integrations, into a single HR platform. This solution is easily customisable to meet your organisation's specific needs, providing the "best of the best" features required without unnecessary extras.
On the other hand, an all-in-one system includes a comprehensive set of features, attempting to cater to all potential HR requirements. While it offers a one-size-fits-all approach, it might lack the level of personalisation found in the best-of-breed option.
The Predicament
Imagine facing numerous challenges concerning your HR strategy, daily processes, and crucial business decisions related to your workforce. Amidst the chaos of onboarding, performance reviews, and countless spreadsheets, you yearn for a quick and effective solution to all your HR hurdles.
The key lies in finding a system that genuinely addresses each of your problems. Otherwise, you might end up with a sophisticated yet irrelevant Swiss-army knife that fails to fulfill your specific needs.
The Ideal Solution
Choosing a system that claims to "do it all" without focusing on individual challenges could lead to even bigger issues, as it becomes a "jack of all trades but a master of none." While such a system may check most boxes, it might not comprehensively address your nuanced concerns. So, what's the better alternative?
Experts strongly advocate for the best-of-breed approach. Just as Josh Bersin, a renowned HR tech expert, and former leader of Deloitte's elite HR Division, and many other HR tech experts endorse this strategy, there must be sound reasoning behind it.
All-in-one HR technology solutions often fall short of delivering on their promises. According to Bersin's insights in his article about HR Tech's dirty little secret, organisations are increasingly adopting Best of Breed HR Software as the preferred strategy for moving forward successfully.
We understand the temptation. The "1 system to do it all' it feels like it should simplify things. In some ways, it probably would – tick all those boxes with one vendor. However, we commonly hear from HR teams who opted for a platform that 'does everything', but then found expectations and reality were poles apart.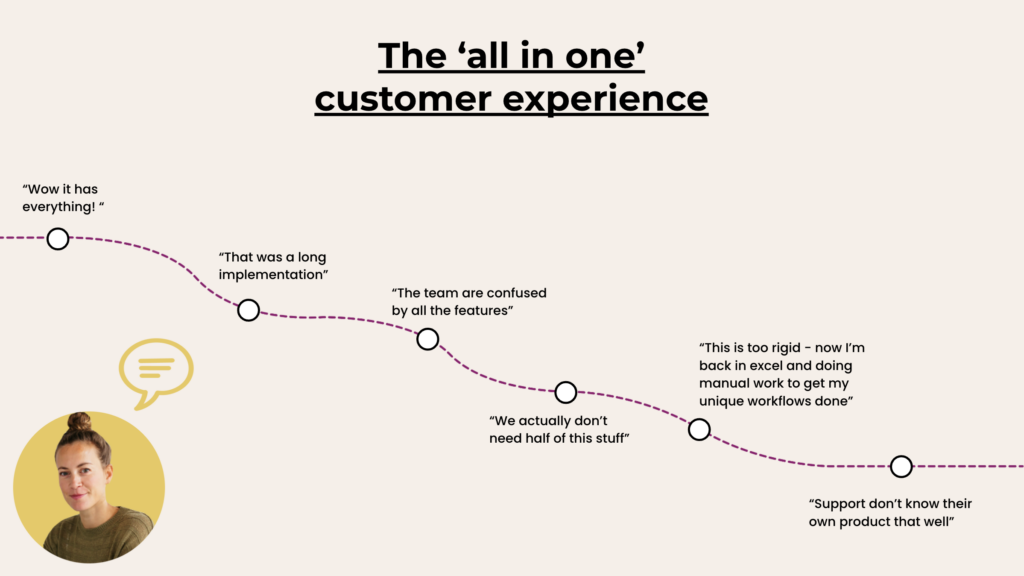 Why experts are banging the 'best in breed' drum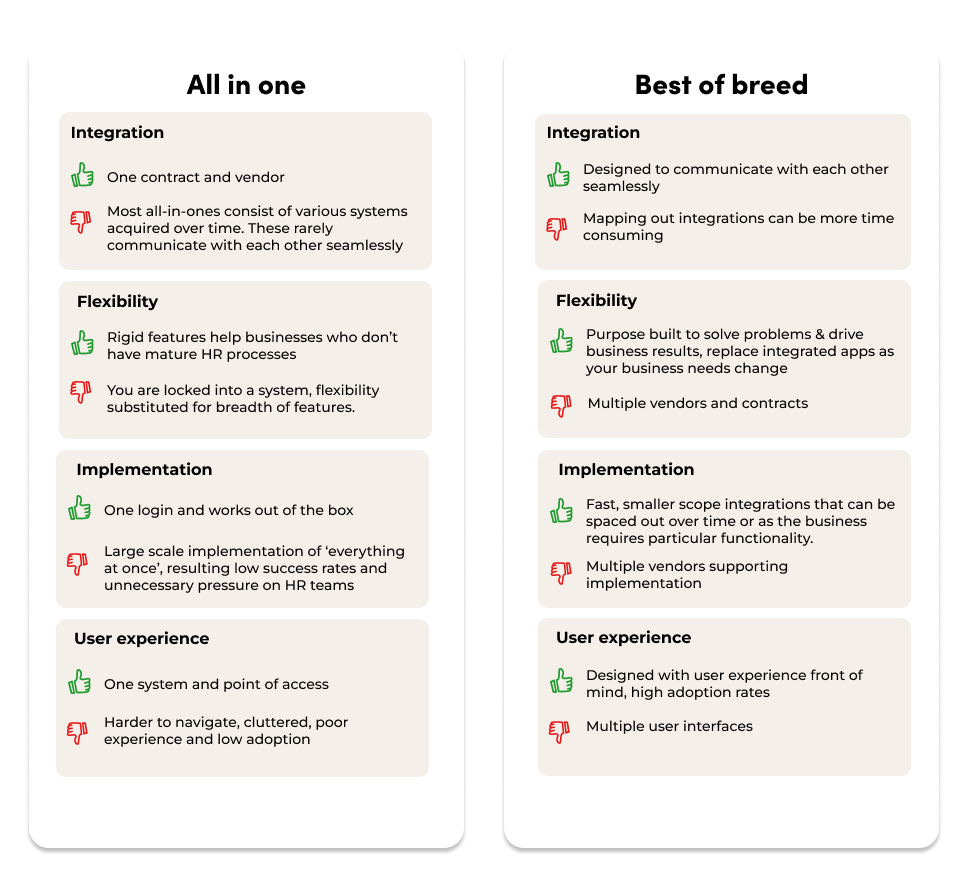 Flexibility
Best-of-breed HR solutions offer far greater flexibility.
Firstly, each individual app is purpose built to solve specific problems & drive business results.
Secondly, best of breed solutions are scalable and easy to evolve as your business evolves. Customers connect new or replacement integrations to their core HR platform as require.
Integrations
Most all-in-one vendors consist of various systems acquired over time, which are often not designed to communicate with each other seamlessly.
Consequently, the so-called 'integrated' functionality often falls short of its advertised promises. Integrating these systems requires the same amount of effort, if not more, compared to best-of-breed HR solutions. You will find the integration process to be similar for both approaches.
Best-of-breed integrations, purpose-built for their respective domains, excel in performance. Since best-of-breed systems cannot stand alone and must integrate effectively to thrive, their integrations are of superior quality.
Best-of-breed solutions prioritise partnerships with the finest HR technology in each field, ensuring they can easily collaborate with diverse ecosystems through APIs, offering more flexibility of choice.
Vendor Support
Choosing an all-in-one solution means sacrificing specialisation. Consequently, the support provided by all-in-one vendors cannot match the level of expertise offered by specialists, which you can experience with best-of-breed tools.
Best-of-breed solutions come with specialised support in each domain, akin to receiving free consultations from specialists rather than general consultants, resulting in a higher level of support and value you can extract from your system.
Best-of-breed vendors are highly motivated to empower your success. Unlike incumbent all-in-one solutions, it is much easier to switch away from best-of-breed vendors, which keeps them focused on delivering top-notch support.
Implementations
All-in-one solutions necessitate lengthy and multi-staged implementations with a single vendor, making the process longer and more complex.
On the other hand, best-of-breed implementations are smaller, more focused, and can be seamlessly integrated into your HR ecosystem on your own timeline, not dictated by the vendor. This reduces the pressure on the HR team who isn't expected to solve every problem all at once.
What Best-of-breed means for you
At Worknice, we firmly believe that technology should revolve around you and your unique needs, not the other way around. Our focus is on providing practical solutions to your specific challenges, rather than forcing you into rigid systems that may not suit your requirements. We are committed to delivering technology that yields tangible business outcomes and enhances your role performance.
To achieve this, we advocate for choosing purpose-built, best-of-breed tools that truly work. These tools are carefully selected to address your precise needs, ensuring they are effective and efficient.
Worknice stands out as a best-of-breed HR platform that offers a long-term, strategic solution. By choosing Worknice, you gain the advantage of a robust foundation, serving as your unified source of truth for all your people data. Furthermore, our platform is designed to seamlessly integrate with other tools as your needs evolve. You can confidently incorporate additional tools knowing that Worknice will providing consistent support and data integrity.
For any other systems you may require, we are here to assist you. We are ready to share our expertise and help you find the perfect tool for each job. Our goal is to help you build an ecosystem that is tailored to your organisation, fostering success and efficiency at every step.