How to set good OKRs
One of the great things about the OKR framework is how flexible it is. As a result, you can create and phrase OKRs in a variety of ways. Like any goal, OKRs should be measurable. However, to effectively use OKRs you also need to connect them to your day-to-day work.
Even though most companies set goals, research has shown that only 26% of employees have a clear understanding of those goals. What are they? What activities have the greatest impact on those goals? The reason for this is because most teams set goals at the beginning of a year or quarter, then never revisit them again.
And this is the beauty of OKRs. When employees have clarity on the relationship between their work and the company's objectives, engagement, motivation and a sense of belonging soon follows. By connecting each individual's work to your companies goals, your employees have the context for why their work matters.
FAQ: How many OKRs should I set?
There is not a set number for how many OKRs you should set, however typical rules of thumbs apply. In practice to keep it as concise as possible – aim to set no more than ten objectives. Each objective can have more than one supporting key result. Because your OKRs represent your big-picture goals, set a number that you can reasonably complete in a set period of time. eg – a quarter or a year.
Download a FREE sample OKR framework today
Interested in exploring if OKRs will work for your business? Download our free template today.
Sample OKR template
In addition, effective use of OKRs means its use on both a company and team level. For example, if the company's objective is to increase its revenue by 30%, your marketing team's OKR might be to find a new inbound lead channel in order to boost the number of potential buyers.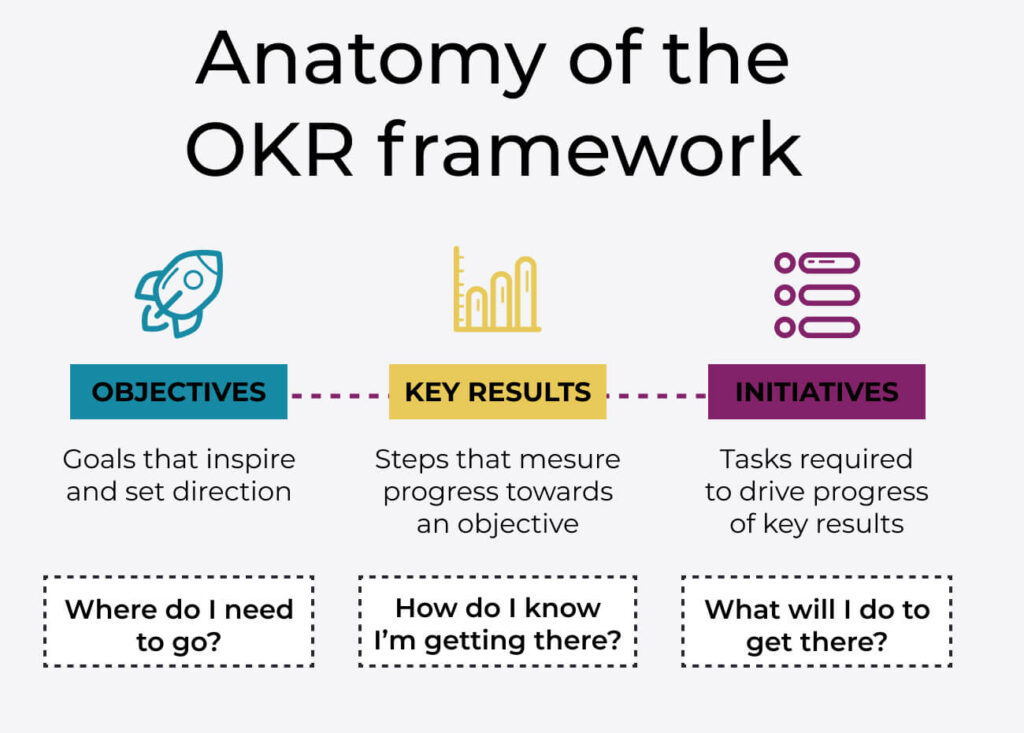 Effective OKR usage takes years
Reality check time.
If you're getting started with OKRs, be aware that your initial implementation will suck. You may have too many, or they may not be measurable – chaos and complaint will happen. However, remember you are not alone. Even Google struggles with them as much as a startup or small to mid sized business (they've had more than two decades to get it right). Keep at it and make your version of OKRs better over time.
Be patient.
Examples of company OKRs
Company OKRs are effective at guiding high impact and long-term goals. Below are a couple of real world examples to help you frame your own company OKRs. Additionally, if you need a sample OKR template to get started, get yours free here.
Sample OKR Objective: Create the lowest carbon footprint in the shoe manufacturing industry.
1 sample OKR Key Result: 100% zero waste in the supply chain and shipping infrastructure.
2 sample OKR Key Result: Pay 100% carbon offset for calculated carbon dioxide emissions.
3 sample OKR Key Result: 25% of material is compostable.
4 sample OKR Key Result: 75% of material is biodegradable.
Sample OKR Objective: Delight customers. Ensure our customers are so happy with our product and service that they share the positive experience with their friends.
1 sample OKR Key Result: Net Promoter Score (NPS) of 42 or better.
2 sample OKR Key Result: Order Rating of 4.6/5.0 or better.
3 sample OKR Key Result: 75% of customers prefer Zume to the competitor in a blind taste test.
4 sample OKR Key Result: increase referral business by 5%
Examples of team OKRs
OKRs are equally effective when you step down from the C-suite to the functional teams. Just as they can direct our strategic thinking, they can guide our functional work, too. Here are a few example team OKRs.
Marketing
Sample OKR Objective: Increase brand awareness
1 Key Result: Drive 1M web visitors
2 Key Result: Increase social media following by 10x
3 Key Result: Recruit and onboard 1,000 community members
Product
Sample OKR Objective: Launch major product initiative by end of quarter
1 Key Result: Recommendation score of 8 or above
2 Key Result: 40% of MAU use new feature
3 Key Result: Increase sign-up-to- conversion rate from 15% to 25%
HR
Sample OKR Objective: Drive employee impact and engagement
1 Key Result: Increase employee satisfaction by 20%
2 Key Result: Achieve 90% employee participation in engagement survey
3 Key Result: Double positive manager feedback
Sales
Sample OKR Objective: Increase recurring revenue
1 Key Result: Reach $2M in Monthly Recurring Revenue
2 Key Result: Increase annual renewals by 25%
3 Key Result: Reduce churn by 10%
Worknice performance management software
Talk to us about your plans and discover how Worknice can help you build a great company.