What does OKR stand for?
OKRs are a collaborative goal-setting tool used by a business and it's teams to set clear goals with measurable results. The OKR framework allows the business to track progress, create alignment, and encourage engagement around measurable goals.
OKRs have become popular since Google used them to drive their business forward. And we all know how that went! The thing about OKRs is they are a very digestible way to keep business and teams focused on the things that are important to achieving goals. We have all spent hours of our time on a rudimentary task that ultimately doesn't help push the business forward. Enter OKRs.
OKR is an abbreviation from Objectives and Key Results.
What are the components of an OKR?
OKRs follow a simple but immensely flexible template that bends and bows to fit nearly every purpose:
I will [objective] as measured by [key result].
The Objective is the goal you want functional team or business to achieve—increase brand awareness, create the lowest carbon footprint in your industry, that sort of thing.
The Key Result is the metric by which you'll measure your progress towards your objective—drive one million web visitors, ensure one-quarter of your product's material is compostable, and so on.Read: How to set OKRs
There are also initiatives. Initiatives are the activities that will be completed to achieve the goals and metrics set.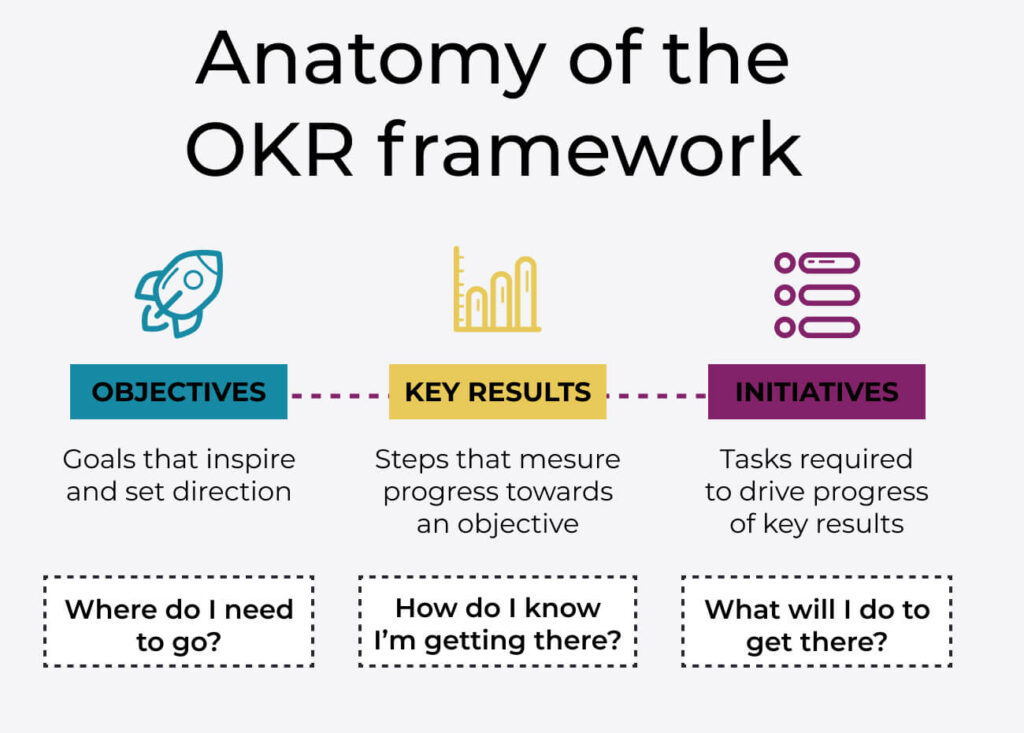 FAQ: What is the difference between OKRs and KPIs?
KPIs, which stand for Key Performance Indicators, are a way for teams to track performance within projects and initiatives. Alternatively, OKRs are a framework for setting and achieving goals. Because of the relationship between the objectives and key results, OKRs are a better way to holistically think about your goals and how they relate to your work.
That isn't to say your team can't use KPIs. In fact KPIs can make great Key Results. Here's how they differ, and how your team can benefit from both:
KRs are the metrics by which you'll measure the progress of your OKR. KRs can be quantitative (e.g. Increase web traffic to 2M users per month) or qualitative (e.g. Assess and document users' pain points). In the latter example, "assess and document" can be measured in a number of ways: with polls, NPS surveys, direct feedback, etc.
KPIs are quantifiable ways to measure your initiative against results. If you have an incredibly quantitative KR (e.g. Increase headcount by 15 people in Q3), you could use the KPI framework to support that initiative, as long as you connected the initiative to your company objectives.
If both of these acronyms are new to you, stick to OKRs. By empowering your team with a holistic goal-setting framework, you can connect your individual work to your company's big-picture goals to drive employee motivation and deliver better outcomes.
But a word of warning – don't expect the implementation of OKRs to be effective immediately. It takes time for any business, even Google!
Need more than a sample OKR template?
Templates a good, but they don't harness the power of modern HR technology like Worknice. Worknice eliminates the stress of compliance by reducing manual admin and streamlining process.
Ditch the paper and spreadsheets
Optimise your organisation's performance by setting clear, attainable goals for employees as part of their growth plan.
| | | |
| --- | --- | --- |
| | Template | Worknice |
| Curated framework | | |
| Viewing permissions | – | |
| Achievement shoutouts | – | |
| Secure storage | – | |
| Connected to performance reviews | – | |
| Reminders | – | |
| Approval workflows | – | |
| Progress tracking | – | |
| And more | – | |
Why is this free sample OKR template is worth downloading?
Worknice content partners have helped create a comprehensive library of sample templates, policies and contracts.
Our content partners are made up of HR consultants, lawyers, experts and professionals. As a result, they pride themselves on offering quality resources that are freely accessible to the public.
This particular sample OKR template is a reproduction of a digital framework that is available as part of the Worknice employee performance solutions.
Why are we giving it away for free?
Worknice is a software platform that helps you focus your time and energy on people, rather than process. This downloadable template is a pdf or editable document. So while the content is great, it does not come to life with technology features like automations, workflows, auto-updates, electronic sign-offs, integration and more.
Where did OKRs come from?
OKRs were created by Andy Grove at Intel and taught to John Doerr by him. Since then, many companies have adopted them, including Allbirds, Apartment Therapy, Netflix, and inspiring nonprofits like Code for America.
Grove's name for OKRs originally was "iMBOs," for Intel Management by Objectives. However, despite the original reverential name, Grove created some key differences between the two which he passed along to Doerr.
Doerr was the one who crafted the name "OKRs," which he assembled from Grove's lexicon.
The most famous story about OKRs is that of Doerr introducing the philosophy to Google's founders in 1999. Gathered around a ping-pong table which doubled as a boardroom table, Doerr presented a PowerPoint to the young founding team, which included Larry Page, Sergey Brin, Marissa Mayer, Susan Wojcicki, and Salar Kamangar.
Google then set its company strategy with this management framework and the rest is history.
Ditch the spreadsheets! Launch your performance management in Worknice
Sure you can download these templates, but wouldn't you prefer to set them up once, do it right, and layer on process so you don't have to worry about it again? Get Worknice!
Streamline the onboarding process
E-signature – Send contracts, offers, and documentation for review and sign off.
Automate the day one set up – trigger actions upon contract sign-off
Smart docs – add in dynamic fields so there is no manual data input for information like [first name] or [position]
Create an exceptional first impression to new starters
100% convenience – Mobile-first, amazing UI, and everything new hires need in the one spot.
Ensure compliance with our smart form library
Smart, compliant contracts out of the box – choose from a pre-populated library or create something new.
Automated tasks – ensure compliance activities get done.
Stay in the loop
Don't miss out! Join our large community of HR professionals and business owners. By keeping in the loop, we will send you every new downloadable template and editorial the moment we create them.