Worknice is designed to unify all your people data and offer a delightful user experience for your employees and contractors. We tend not to overlap with other segments in the HR space, but rather integrate with them and unify that data so you can apply powerful workflows and processes.
Every now and then, our customers convince us to cross the typical lines between HRIS (us) and other HR categories (in this case, payroll).
As an HR professional, keeping your eye on the big picture with visibility into time off requests, leave balances, and department overlaps can be tricky. The features simply don't exist in the payroll platforms, or the HR team does not have visibility of the data if it exists. For this reason, we have created some time-off request and tracking features that solve the problems we have heard from you – the HR professionals out there. Let's dive in and take a look.
Are we replacing your current leave solution?
It is important to remember we are not replacing your leave solution, but rather enabling it through a deep integration with Worknice.
Our integration makes leave requests and management a better experience for employees by consolidating the interactions into Worknice. For the handfull of people that administer leave configuration and approvals, they continue to do it in the app that drives leaves – payroll.
See leave requests in action
Reach out and we'd be happy to show you leave and other great features.
Get a Demo
Keep your finger on the pulse
We post product updates and company news on linkedIn. Follow us to keep in the know.
Follow Us
How does it work?
Make time off requests a delight for employees
No more chopping and changing between different apps – your employees can now request time-off right from within their employee self service portal in Worknice. This means Worknice can now manage many of the common interactions an employee has with HR systems, such as time off, acknowledging policies, updating their payroll or persona information, and managing compliance documentation such as right to work, licences, training completion etc.
As an employee requests tie off, Worknice calculates the estimated hours of that request, which can be deducted from the employees leave balance, also visible in Worknice.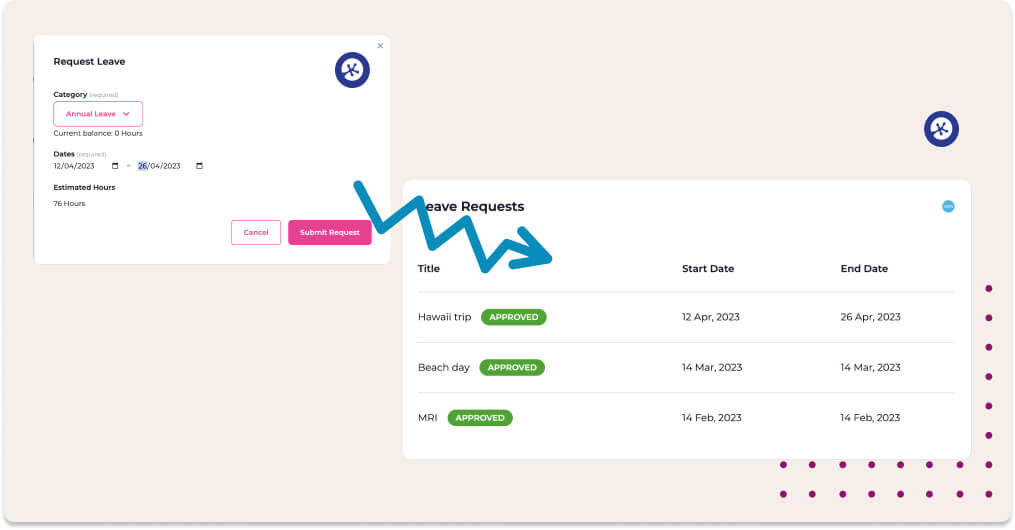 Leave balances at your fingertips
A big part of requesting and approving leave is knowing leave balances. The key detail we looked at here is, "how can we ensure employees and HR managers can see leave balances just at the right time, rather than needing to go look for it."
What we came up with is a live 'feed' of an employees leave balance that pulls directly from payroll – so it is always up to date. By making this connection, we can show it anywhere we want in Worknice, so ofcourse we decided to place this information right where and when you need it.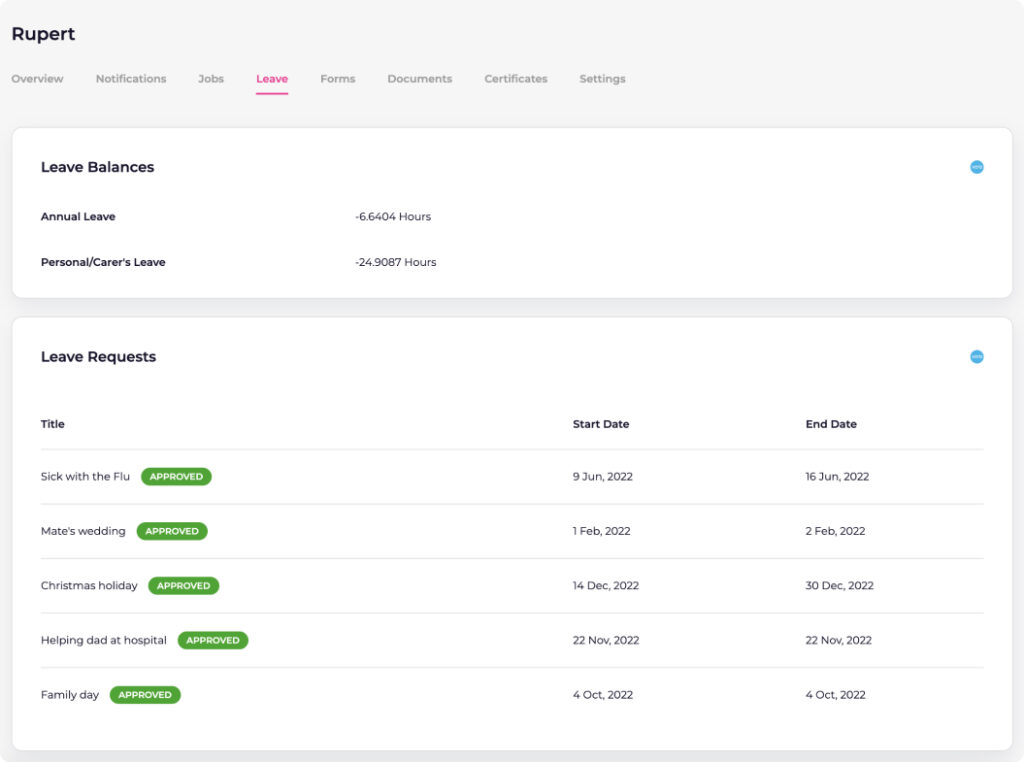 Organisation wide leave report
This feature is VERY cool. It can be hard (or impossible) to get a clear view of who is away at what time. So we have simplified that for you. Now you can keep your eye on the big picture with visibility into leave department or team leave overlaps.
One of the most valuable use cases for this feature is understanding overlaps.
A leave overlap report shows when multiple employees have requested time off during the same period. This report can be used by managers or human resources personnel to identify and resolve conflicts or potential issues with staffing and coverage. The report in Worknice includes information including;
the names of employees requesting leave,
the dates of the leave, and
the type of leave (e.g. vacation, sick leave, etc.)
It can also be used to identify patterns of leave usage, such as certain times of the year when many employees tend to request time off. Overall, the leave overlap report is used to manage employee time off, to avoid any kind of conflicts, and make sure the company's operations runs smoothly.